What to wear to a wedding as a plus size woman?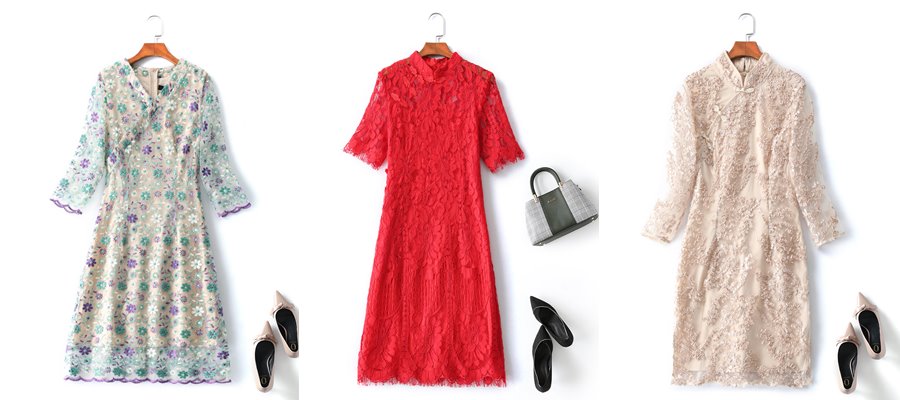 Just got an invitation card to a friend's wedding? As a plus size woman, that may ring an alarm bell in your head and make you go "Oh no, time to spend hours planning about what to wear again!" It seems like it is normal to face difficulties preparing for weddings as frankly there aren't too many plus size wedding guest wear options out there. Also, coupled with the problem that you aren't sure what is appropriate to wear to a wedding. Fret not, Hello Curve is here to help you!
Dressing Tips for a Wedding
1) Wear Bright Colours
In general, whether you are plus size or not, it is a good idea to wear bright colours and festive prints like floral prints. Classic go-to colours we recommend are feminine hues like pink, red, yellow and purple. You are not recommended to wear white, ivory or cream colour. As a wedding guest, we should let the bride shine and not upstage her!
2) Wear Formal Dresses
Think fabrics like satin, jacquard and high quality chiffon. Do not wear your usual summer dresses (unless it is a wedding in a casual setting like a beach side wedding). Long dress lengths are suitable. A dress length up to slightly above the knee is recommended. Anything shorter than that will be inappropriate.
Gowns are too formal are not recommended. Again, as a wedding guest we should not upstage the bride. Anything that looks like a wedding dress should be avoided. However, if the dress code explicitly requires a high level of formality (like a Black Tie dress code), plus size gowns are acceptable.
Plus size cocktail dresses are also suitable. 
3) Wear Heels
It is befitting to wear high heels as it is more formal than flat shoes. Wear any shoes from a low to high heel, but nothing short of a heel.
Plain coloured heels or textured heels like lace fabric heels and diamante heels are all acceptable. 
4) Match a Clutch or Handbag
Since the event is formal, shopper bags and backpacks are out of the question. A simple clutch or a small classy handbag is suitable to match with your formal wedding guest dress.
Wedding Wear Tips for Plus Size Women
1) Wear a Figure-Flattering Dress
Many curvy women worry about looking good in formal dresses but with the right construction and fabric, there is no issue in looking ravishing for the wedding. Plus size formal dresses specially designed for curves are the best choice. Think flattering V-necks, thicker fabrics to structure the bodyline and ingenious designs to conceal the parts we all want hidden. Plus Size evening dresses like the one pictured below are stunning and very flattering. 
2) Wear a Dress made with Comfortable Fabric
The worse thing a plus size woman can do is force herself to fit into a dress that is one (or a couple) size too smalls for her. Always wear something you are comfortable in so you can enjoy the evening with ease! We recommend wearing plus size dresses that are looser for you if the fabric is not stretchy. Ideally, the fabric should have stretch to accommodate heavy dinners and one glass of wine too many! 
3) Wear a Dress with a Simple Design
Complicated designs not only are not suitable for weddings, but are unflattering for plus size women. Simple designs are timeless, elegant and most suitable for plus size women. Stick to single coloured dresses and single patterned dresses. Multi-pattern dresses will make a plus size woman appear bigger in size than she actually is and draw attention in the wrong manner. An example of a simple dress is shown above.
4) Wear Bright Coloured Dresses
Do not shy away from colour as a plus size woman, especially not at a wedding! You are here to celebrate a friend or family member's happy occasion so bring bright colours to your dress for the occasion! 
Bright hues like chili red, sorbet yellow and lilac are all suitable for the occasion. The image above reflects a suitable plus size wedding guest dress. Its bright red colour and intricate lace with a simple but elegant square neck makes it a wonderful choice for a wedding. It brings out your femininity, and also creates a slim silhouette, killing two birds in one stone for plus size women. 
In conclusion, don't ever dress down as a plus size woman. Don't lose your character and your flair as a plus size wedding guest. We hope you enjoyed reading our guide on what to wear to a wedding as a plus size woman. Don't forget to share some pictures of you after a successful wedding dinner!