Tips on Shopping for Plus Size Gowns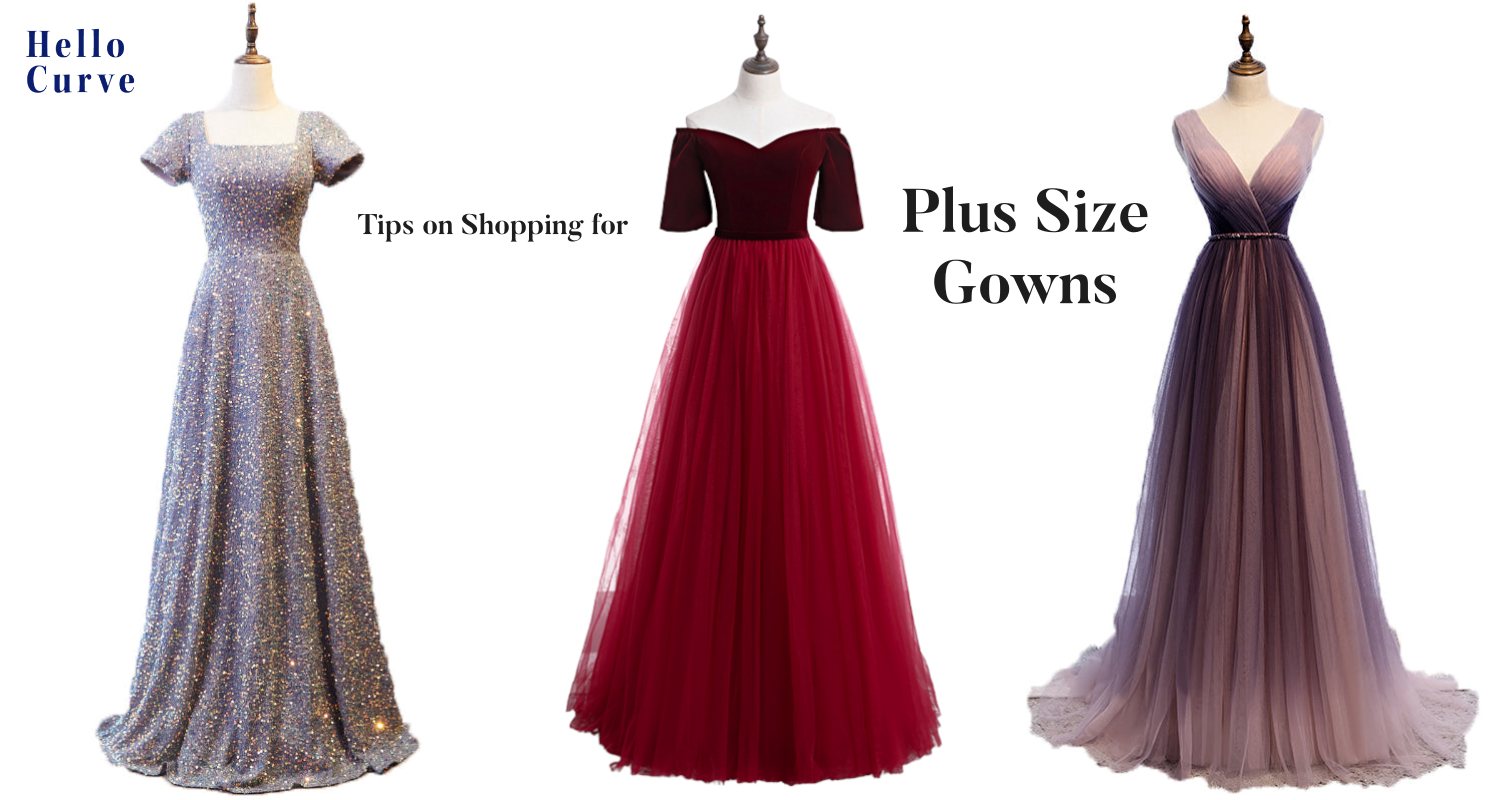 Shopping for plus size gowns can be a daunting experience for curvy girls, but it doesn't have to be! With the right approach and mindset, you can find the perfect gown that fits and flatters your figure and makes you feel confident and beautiful. In this article, we will explore some essential tips for shopping for plus size gowns, from knowing your body type to trying on different styles.
1. Know Your Body Type
Understanding your body type is essential when shopping for any type of clothing, and it's especially important when looking for plus-size gowns. Plus size women like all women have different body shapes as well! Whether you have an hourglass, apple, pear, or rectangle-shaped body, there are gowns that can flatter your figure and accentuate your best features.

For example, if you have an hourglass figure, you'll want to look for gowns that emphasize your waist and curves. A fitted gown with a flared skirt can help balance your proportions and create a feminine silhouette. On the other hand, if you have a pear-shaped body, you'll want to draw attention away from your hips and thighs and toward your upper body. A gown with a plunging neckline or embellishments on the bodice can help create balance and draw the eye upward. Apple shaped women will benefit from wearing straight gowns to elongate their frame. Rectangle shaped bodies should wear a gown that is fitted at the top and has volume at the bottom to give a more feminine figure.
2. Set a Budget
Plus-size gowns can vary greatly in price, so it's important to set a budget before you start shopping. Decide how much you're willing to spend and stick to it, as this can help narrow down your options and prevent overspending. Keep in mind that the price of a gown doesn't necessarily reflect its quality or fit, so don't be afraid to shop around and compare prices from different retailers and designers.

If this is an event of a lifetime, for example your own wedding, you can afford to splurge a little more. Would you not want a dress of your dreams for your special night? If you're dressing up for a more commonplace event like a colleague's wedding, you can opt for something of a lower price, or even more smartly, opt for a dress with a very basic design or a multi-wear option like changing strap design so you can wear it to other events in the future!
3. Do Your Research
Before you start shopping, do some research on different retailers and designers that offer plus size gowns. Look for customer reviews and feedback to get an idea of the quality and fit of the gowns, as well as any common sizing issues. You can also browse online marketplaces like Etsy, which offers a wide selection of handmade gowns from independent designers. Ebay is a good marketplace to browse as well, especially if you are not against wearing second hand gowns; significant cost savings can be made!

It's also a good idea to research the return policy of the retailer or designer you're considering. Make sure you understand the return and exchange policies, as well as any fees associated with returns or alterations. Some retailers may offer free alterations, so be sure to ask about these options when making your purchase.
4. Try On Different Styles
Don't be afraid to try on different styles and silhouettes, even if they're outside of your comfort zone. You may be surprised at what looks good on you and what doesn't, and it can help you discover new styles that flatter your figure. We advise that you wear comfortable clothing that are easy to slip on or remove while going to the mall for your try-ons to reduce the discomfort of having to change clothes multiple times.

When trying on gowns, pay attention to how they fit your body. Make sure the gown is comfortable and doesn't dig into your skin or create bulges. Look for gowns that accentuate your waist and curves, and avoid styles that make you look shapeless. A good rule of thumb is to choose gowns that highlight your best features and downplay any areas you're less comfortable with. For example, if your best asset is your bust, wear gowns with lower necklines to show them off! If your best asset are your long legs, wear a gown with a high slit or of a shorter length. If you have beautiful skin, wear a gown that shows more skin. Take some time to think about what your best assets are and this will greatly help you sieve out all the gown options.
5. Consider Alterations
Depending on your body type and the style of the gown, alterations may be necessary to achieve the perfect fit. If possible, purchase a gown with enough time to have it altered before your event, and budget for alterations in your overall budget. It is actually rare to have a perfect fit if the gown you like does not have stretch. Be sure to work with a trusted tailor or seamstress who has experience working with plus-size gowns, as they will be able to ensure the best possible fit.
6. Don't Be Afraid to Ask for Help
Shopping for plus size gowns can be overwhelming, so don't be afraid to ask for help from store associates or designers. They may be able to offer suggestions based on your body type, event type and style preferences, and can help you find the perfect gown for your event. If you're shopping online, don't hesitate to reach out to the retailer or designer. There are many online plus size gowns stores with live chat or email query forms. As they have formal fashion expertise, they are able to offer valuable advise and narrow your search. 
7. Remember to Have Fun
Shopping for a plus-size gown can be stressful, but remember to have fun and enjoy the experience. Years later, you may look back and remember the long but entertaining process of finding 'that' perfect gown. You can even rope in friends and family for help. With the ease of connecting with your near and dear nowadays with social media, you can even create an online poll and let your friends and family choose your perfect plus size gown!
Find gowns that make you feel beautiful and confident, and don't be afraid to show off your curves and personality. Never let size limit your style; life is too short for that! With the right attitude and approach, you'll find the perfect plus-size gown that speaks to you in no time.

In conclusion, finding plus size gowns is not the easiest thing to do. We get it! But with our tips, we are sure you're able to make the process easier and dress and feel confident for your next formal event!