The Various Fabrics of Plus Size Formal Dresses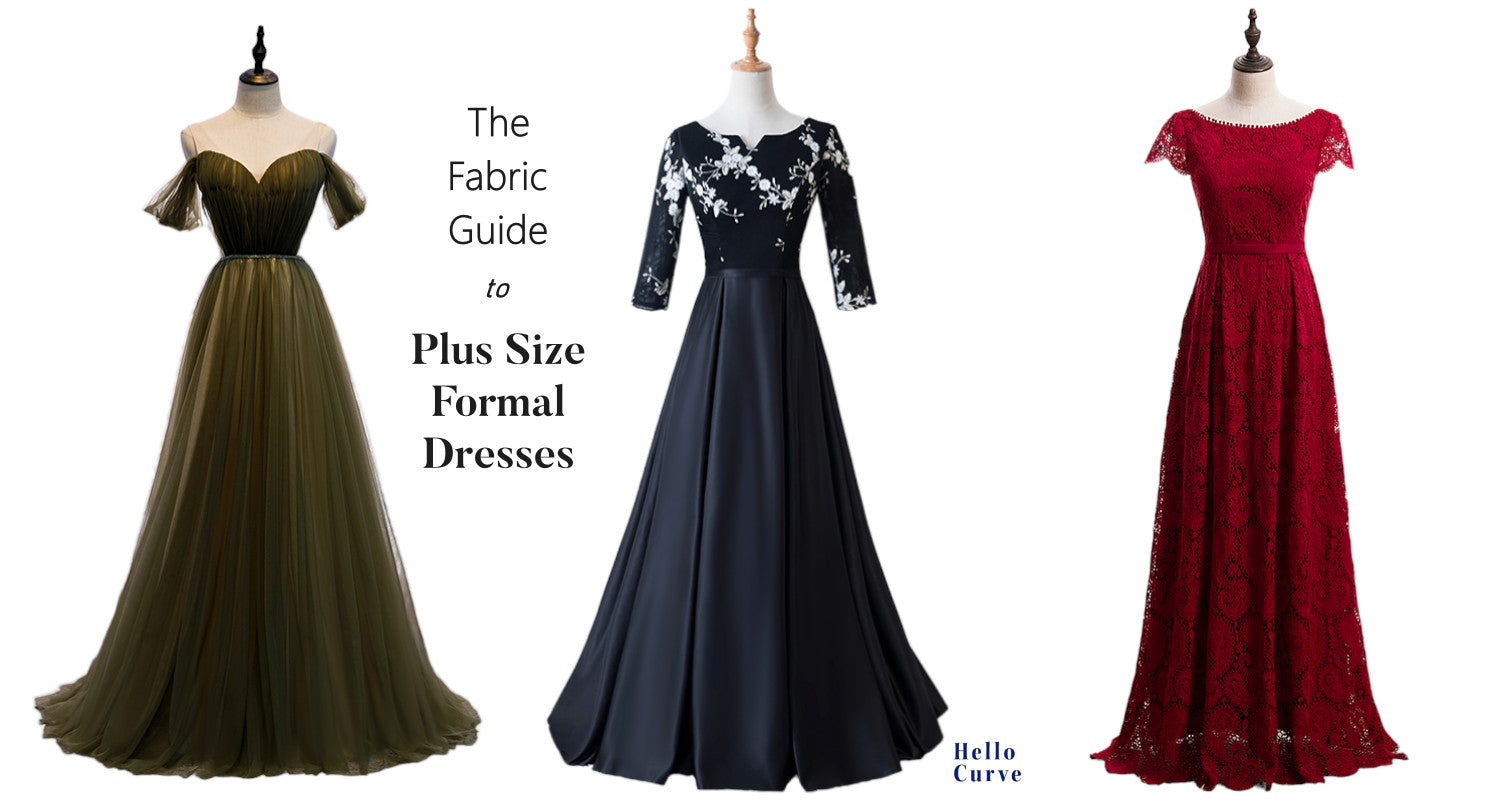 When it comes to finding the perfect formal dress, plus size women often face unique challenges. Besides considering fit and style to comfort and confidence, selecting the right fabric for their dream formal dress is crucial. This article aims to shed light on the various types of fabrics used in plus size formal dresses, enabling curvy women to make better informed choices and embrace their elegance on special occasions.
1. Chiffon
Chiffon is a lightweight, sheer fabric known for its delicate drape and elegant appearance. It is a popular choice for plus size formal dresses as it offers a flattering and flowing silhouette. Chiffon dresses have a soft, romantic look, making them ideal for occasions like weddings or formal dinners.
2. Satin
Satin is a smooth and glossy fabric with a lustrous finish. It drapes beautifully and has a luxurious feel, making it a classic choice for formal dresses. Plus-size individuals can opt for satin dresses that provide a flattering fit while offering a touch of elegance. Satin is often used for ball gowns, evening dresses, and cocktail attire.
3. Velvet
Velvet is a sumptuous fabric that exudes opulence and sophistication. It has a plush texture and a rich, deep color, making it perfect for formal events. Plus-size individuals can embrace the regal charm of velvet dresses, as the fabric drapes gracefully and offers a flattering fit. Velvet is commonly used for evening gowns and formal attire during the cooler months.
4. Lace
Lace is a delicate and intricate fabric that adds a touch of femininity to any formal dress. It is often used as an overlay on other fabrics, creating beautiful patterns and texture. Lace dresses can be both modest and alluring, making them versatile for various occasions. Plus-size individuals can choose lace dresses with supportive underlayers to ensure a comfortable and flattering fit.
5. Tafetta
Taffeta is a crisp, lightweight fabric with a slight sheen. It has a distinctive rustling sound and holds its shape well, making it ideal for structured plus-size formal dresses. Taffeta dresses offer a polished and sophisticated look, suitable for formal events, galas, or cocktail parties. The fabric's stiffness can provide structure and support for a flattering fit.
6. Jersey
Jersey is a stretchy, soft fabric known for its comfortable feel and excellent draping. It is often used in plus-size formal dresses to provide a figure-hugging yet forgiving fit. Jersey dresses can be dressed up or down, making them versatile for various occasions. They are an excellent choice for those seeking a balance of comfort and style.
7. Organza
Organza is a lightweight and sheer fabric that adds volume and drama to formal dresses. It is often used for overlaying other fabrics or creating layered skirts, providing a ethereal and romantic look. Plus-size individuals can opt for organza dresses that flatter their curves while offering a touch of whimsy. Organza is commonly seen in ball gowns and formal evening wear.
8. Crepe
Crepe is a lightweight fabric with a slightly crinkled texture. It has a graceful drape and a matte finish, making it suitable for plus-size formal dresses. Crepe dresses offer a sophisticated and elegant look while providing comfort and ease of movement. Crepe is commonly used for cocktail dresses, evening wear, and formal suits.
9. Jacquard
Jacquard fabric is a type of woven fabric that is characterized by intricate patterns and designs. It is created using a Jacquard loom, which allows for the incorporation of complex and elaborate motifs, often including floral patterns, geometric shapes, or ornate designs. These designs are woven into the fabric itself, giving it a rich and textured appearance. The interplay of different threads and yarns results in a raised or embossed effect, adding depth and visual interest to the fabric. Among the array of fabric options available, jacquard stands out as a timeless choice for plus size women. With its luxurious texture, jacquard fabric adds a touch of opulence to any plus size formal dress. 
Another advantage of jacquard fabric for plus-size formal dresses is its inherent structure and support. The weaving technique used in jacquard creates a sturdy fabric that holds its shape well. This is particularly beneficial for plus-size individuals, as the fabric provides a flattering fit while offering support and structure where needed. Jacquard dresses can accentuate curves and create a polished and put-together look.
10. Guipere Lace
Guipure lace, also known as Venetian lace or tape lace, is a luxurious and ornate fabric created by weaving together embroidery threads without any backing fabric. This technique results in an exquisite fabric with openwork designs, often featuring floral motifs, geometric patterns, or intricate lacework. Guipure lace is characterized by its dense texture and raised motifs, offering a rich and dimensional appeal. 
Despite its intricate appearance, guipure lace offers a surprising level of comfort and breathability. The openwork nature of the fabric allows for air circulation, keeping the wearer cool and comfortable throughout the event. This makes guipure lace an excellent choice for plus size formal dresses, as it combines beauty with practicality. The lightweight and breathable nature of the fabric ensures that individuals can enjoy their special occasions with ease.
In conclusion, choosing the right fabric for a plus size formal dress is crucial for achieving the perfect fit, style, and comfort. Each fabric has its unique characteristics, ranging from delicate chiffon to luxurious velvet, and from figure-hugging jersey to structured taffeta. By understanding the properties of these fabrics, plus size women can make smart choices that celebrate their beauty and ensure a memorable and confident presence at any formal occasion!