The Different Types of Plus Size Dresses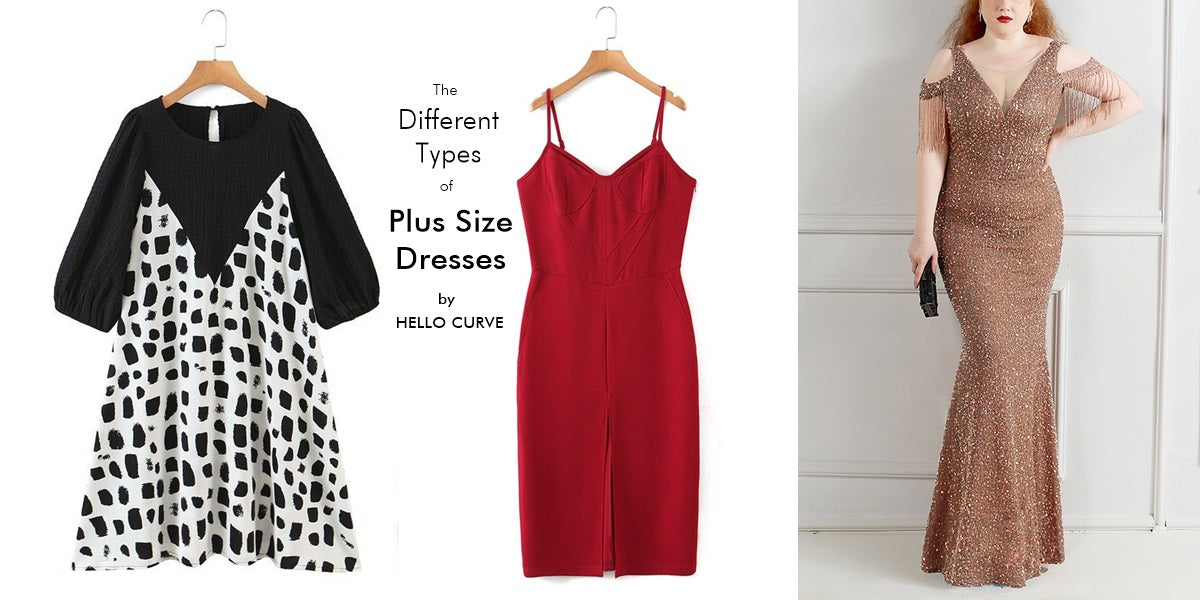 Wondering what type of dresses are available for plus size women in the current market? Given the greater acceptance of body diversity with the works of brave curvy women on social media, more and more fashion brands are catering to the plus size woman. With that, an implosion of dress options for curve women are found in stores. This article will explore the various commonly and uncommonly found kinds of dresses available for women with curves.
1. Plus Size A Line Dresses
A line dresses are flattering for women of all shapes. It gives a womanly appeal with a light flounce in your step. It is also effective in smoothing over lumps and bumps from the supper you just had! As it is a dress type that does not hug the body, it is also a comfortable dress option for plus size women. Many brands creating designs for plus size women will offer the A line cut. An example is the below 'Plus Size Babydoll Dress.' 
2.
Plus Size 

Sexy Dresses

A decade ago, people just can't seem to wrap their head around plus size women and sexiness; which we find totally ridiculous! Plus size women are full of curves and woman-ness, much like any other woman. Plus size clothing brands are beginning to recognize that, offering close fitting dresses for plus size women. There are now a plethora of sexy designs available for curvy women, from bustier dresses to pencil dresses. An example of plus size sexy dresses is this 'Plus Size Sexy Bustier Dress' which you can find from our store.
3.
Plus Size 

Maxi Dresses

Dresses of all lengths can be found for plus size women now, including dresses made in the maxi length. Ending at the ankle, maxi dresses are a beautiful celebration of a woman. There is something so elegant about a woman wearing  a full length dress! Although not as common of a dress type than others, the plus size maxi dresses department is slowly but surely improving in its offerings. An example is the 'Plus Size Bell Sleeve Floral Maxi Dress' found at Hello Curve.
4.
Plus Size 

Floral Dresses

Floral dresses are a woman's birthright, don't you think! A staple in most women's wardrobes, flowers represent our femininity and grace. Plus size women have a huge range of options in the floral department from prints made for mature women to young girls. Repeated floral prints or singular flowers feature on dresses made for curvy women. This is very commonly found dress type for plus size women. An example of plus size floral dresses is the 'Plus Size Red Ditsy Floral Wrap Dress' shown below.
5.
Plus Size 

Evening Dresses

An uncommon but ever-so-riveting dress type, evening frocks made for plus size women are slowly expanding into ultra glamourous territory. Elaborate embroidery, detailed sequin patterns, sexy fishtail hems and stunning trains are beginning to feature in formal dresses made for curves. Not only in the safe black colour, plus size evening dresses of our current day and age are vibrant, colourful, elegant and fun. An example is this beautiful evening dress called 'Plus Size Off Shoulder Sequin Gown' from Hello Curve.
6. 
Plus Size Cocktail Dresses
Plus size women have places to go too! As the options of dresses in plus sizes grow, designers are increasingly thinking of the various occasions that plus size women require dressing up for. Many plus size women are working women who have to attend after-work events, including cocktail events. Naturally, they need plus size options for that too! Though uncommon, some clothing brands are providing plus size cocktail dresses in classy and understated designs. An example is the '' from our store.
7. 
Plus Size Vintage Dresses
For plus size women who love themselves a little retro, rockabilly or pinup vibes, some plus size brands are beginning to offer vintage designed dresses. Classic polka dots, siren red colour, fun and flattering swing hems are being featured on plus size vintage dresses. Size should never limit style. If you're a budding vintage fashion enthusiast, look around in current plus size brands' offerings. You'll be surprised to find many vintage inspired dress designs in plus sizes! An example of a vintage design for women with curves is the 'Kathleen Plus Size Polka Dots Cocktail Dress' from Hello Curve.
8. 
Plus Size Cheongsams
As the final type of plus size dresses we are exploring, this might come as a surprise for you. Yes, the plus size fashion industry has evolved to the point that even ethnic designs like cheongsams are now made for plus size women! However, there aren't a whole lot of brands offering this unique dress type. You might have to dig around a little to find some. Our store offers quite a wide range of plus size cheongsams and qipaos with a modern twist. An example is the 'Plus Size Gingham Cheongsam' that comes in fun pastel pink and pastel green colour!
As you can see, there are a wide range of options for plus size women who are lucky to be living in this day and age where they are being accepted for who they are. The plus size fashion scene may be young, but it is definitely growing in the right direction, accommodating the varying tastes of curvy women. So go on curvy girl, take advantage of the welcoming fashion scene for plus size women and express yourself with fashion today!